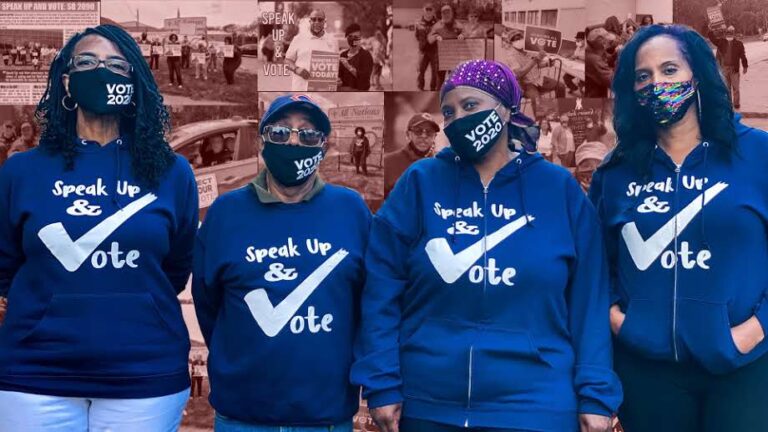 Speak Up and Vote started as a four-person movement; an initiative to register people to vote that started in July 2020.
The SUAV members have also held forums for candidates for office, from judges to county board candidates to a U.S. House representative. They plan to continue to register people to vote.
Always very involved in her community, Pamela Fort felt spurred on by MSNBC to take action in the wake of voter suppression.
While Illinois is a blue state and thus, voter suppression isn't as much of a problem there, Pam recognized that Joliet, Ill. had a problem of not turning out to vote.
Pam saw the need to get involved in her community again. Pam called her cousin Trista Brown. Trista was no stranger to being civically engaged, either. She works with a grassroots organization in her community and has marched against police brutality and for Black Lives Matter.
Her mother was a civil rights leader who was passionate about getting people registered to vote. Pam and Trista found out there were many people who wanted to vote but weren't registered.
Trista connected Pam to Sherry Williams. As a former president of Local 1028, American Federation of State, County and Municipal Employees (AFSCME), Sherry educated people on the political process and dealt with the same individuals SUAV would encounter in its work. She learned to deal with politicians because most of the politicians were the bosses of the union members. Being retired, Williams had time and she believes that it's important to register people to vote.
She also was already a deputy registrar, who officially registers voters. When SUAV couldn't find other deputy registrars, its other members besides Sherry became the deputy registers (though it takes less than an hour to become one). They did not want to wait on registering people.
SUAV even plowed ahead despite doing its work so far in the midst of COVID-19. That means that since it was difficult to direct people to go to a location to register to vote, the SUAV members went out into their community.
Being in their 50s and 60s, the members had to strategize doing their work because people in their age bracket were dying due to the pandemic.
SUAV made sure to abide by COVID-19 guidelines, applying hand sanitizer and ensuring that people didn't get within six feet. Altogether, SUAV went to 25 locations to register people to vote, from assisted living facilities to churches to barber and beauty shops to a veterans home.
SUAV members also literally went to street corners in Joliet. They found a lot of people didn't know they could vote, for various reasons.
Pastor Dwayne Barefield of All Nations Church of God in Christ (COGIC) allowed SUAV to use his church's bus as a Freedom Ride Bus while participating in SUAV's endeavor.
The biggest challenge for SUAV so far has been trying to get people acclimated to voting, Pam said. Many are registered but don't turn out in the general election.
Sherry said the biggest challenge is convincing people that it's important to register. Besides Pam, Sherry, and Trista, SUAV was also started by Eric McKenzie, who was training to be a deputy registrar through another organization. Once the women talked with him, he decided to get involved with SUAV.
Sherry said that SUAV becoming a movement was a matter of the members having the passion and putting forth the effort to do it. Pam said that they did it because they didn't see anybody else doing it.
They went outside four walls and started the movement by moving, she said. SUAV has endured many challenges on the way to its achievements and looks forward to overcoming more challenges going forward. Anyone is welcome to join SUAV. ​